Frequently Asked Questions
Upbeat Financial knows that finding the right financial advisor isn't always easy. We're in the business of helping you make great decisions, and that begins right here. If you don't see the answer to your question below, please contact us directly! We would love to help.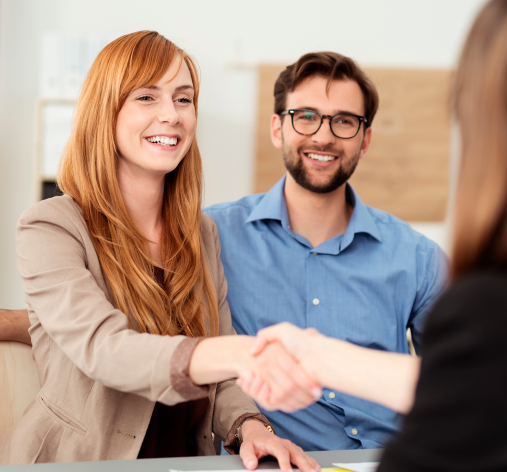 A financial advisor helps you bring all the pieces of your financial life together into one thoughtful and well-designed financial strategy, which helps you get from where you are to where you're going. Depending on where you're at in life, the financial advice may look different - a young family in their 20s will have different needs and questions than a couple approaching retirement - but the essence of financial advising remains the same: A good advisor will listen to your needs and goals, assess your current financial landscape, and work with you to build your financial roadmap.
A fee-only advisor only earns money from fees paid directly by their clients. This can include a fixed fee to develop a financial plan, fees assessed on any investment accounts the advisor manages, or stated hourly fees. A fee-only advisor will not collect any commissions or compensation from outside third parties.

A fee-based advisor also earns money from planning fees, investment management fees, and hourly fees, but they may also receive commissions from additional products sold. This can be in the form of commissions on an insurance product or commissions on certain investment product types.

Neither one is better or worse. It depends on the skillset of your advisor, the breadth of services they offer, and what is best for you and your financial trajectory.
Upbeat Financial is a fee-based registered investment advisory firm.
We assess flat fees or hourly fees for financial planning and financial coaching
We assess a flat percentage fee on any investment accounts we manage
We earn commissions on insurable products offered to our clients
As a CFP® Professional, Upbeat Financial is required to adhere to the CFP Board's Code of Ethics and Standards of Conduct which outline in detail our ethical duties to our clients regarding fees. The CFP Board Code of Ethics and Standards of Conduct can be found
here
.
A fiduciary is a legal term which binds a professional legally and ethically to act in their client's best interest. Simply put, as your financial advisor I must put your interest above my own. As a CFP® Professional, Upbeat Financial is bound by the CFP Board's Code of Ethics and Standards of Conduct to act as a fiduciary in all client relationships and transactions. In fact, the Fiduciary Duty is the #1 standard of the CFP Board and of all financial advisors who have earned the CFP® marks. You can read more about the CFP Board's Fiduciary Duty
here
.
Everyone has inherent biases towards their financial habits, their ability to save, and their willingness to plan for unexpected events in the future. This is a very human quality, and in other areas of our lives, may serve us quite well. But in the area of personal finance, these biases often cause us to make bad decisions at precisely the wrong time. Upbeat Financial provides the outside and unbiased perspective needed to be successful in your personal financial journey. We analyze your personal financial situation objectively and provide insights grounded in data and metrics, not emotions.
There are a lot of options out there for managing your own investments, ranging from apps and websites for individual stock trades, to interactive "advisor" applications that ask you a set of questions and give you investment suggestions based on your responses.

The problem with doing your own trades is that over the long term on average, individual investors often let their habits slide, hold on to too much cash, and don't have a standard process or methodology for how to invest.

That is why we partner with the investment management companies like First Ascent Asset Management, TD Ameritrade, Dimensional Fund Advisors, and Orion Portfolio Solutions. We have the advantage of being independent, so we can choose the best investment managers and products from among several companies – and we do!

And, while it's true that a robo-advisor may ask you what your annual income is, and at what age you would like to retire, it's not going to ask who you are and what gives you joy in life. A good financial plan fits into your life, not the other way around.
Upbeat Financials' advisors have obtained multiple credentials including:
Graduate degrees in business, emphasizing the areas of Finance, Operations, Marketing, and Human Resources
The Enrolled Agent tax designation, the highest tax credential offered by the IRS
The CFP® Marks which requires college-level coursework in multiple areas of financial planning, 6,000 hours of experience, passing the CFP® Exam, and maintaining ongoing Continuing Education in Ethics and other areas of financial planning.
Upbeat Financial is a Registered Investment Advisory firm with the states of Michigan and Colorado.